Bretagnessa minulle on tapahtunut tyylialennus. Olen kai saavuttanut sen ikärajan, että joissakin tyyliasioissa saa jo alkaa lipsua (kun siis ollaan maalla).
Ensimmäiseksi sujautin patikointireissulla päälleni vajaamittaiset jumppatrikoot, Lady Gaga -teepparin ja Adidaksen verkkatakin. Tyylinäyte terästettiin vielä olkihatulla. Eikä tässä vielä kaikki, sillä viime päivinä minut on tavannut tepastelemassa puutarhassa harmaissa crocseissa. Tosin crocsit ovat korruptiolahja pressitoimistosta. Itsehän en olisi niitä hankkinut? Tyylikysymyksestä viis, sillä nämähän on täydelliset kesämökkikengät.
Olen muutenkin haahuillut viime päivät milloin mikäkin luomus yllä. Ennen Bretagneen lähtöä kävin lävitse kesävaatevarastoni ja toin ehkä-vaatepinon maalle. Ajattelin, että hyödynnän näin sitä vaatekertymää, jota en enää kaupungissa käyttäisi. Näin myös pidennän vaatteiden elinkaarta.
Lajitteluprosessin keskellä havahduin siihen, että olen tainnut tulla siihen ikään, ettei ne lyhyet kesätopit ole enää meikäläistä varten. Toimiva kesäpuvusto ei myöskään rakennu kirjavien vaatteiden tai ohuiden trikoomekkojen varaan. Vaikka kesäpuvustossani on aika iso lovi (syytän henkistä ikäharppausta), pysyn maltillisena. Kesäkauden hankintalistalla on vain ne aivan välttämättömät, ja nekin pyrin löytämään käytettyinä. Sitäkin enemmän tänä kesänä aion keskittyä hyvinvointiin, ulkona olemiseen ja saunomiseen. Ja: kerätä tyylipisteitä kummallisissa haahuiluvaatteissa crocsit jalassa.
Eläköön tyylikesä!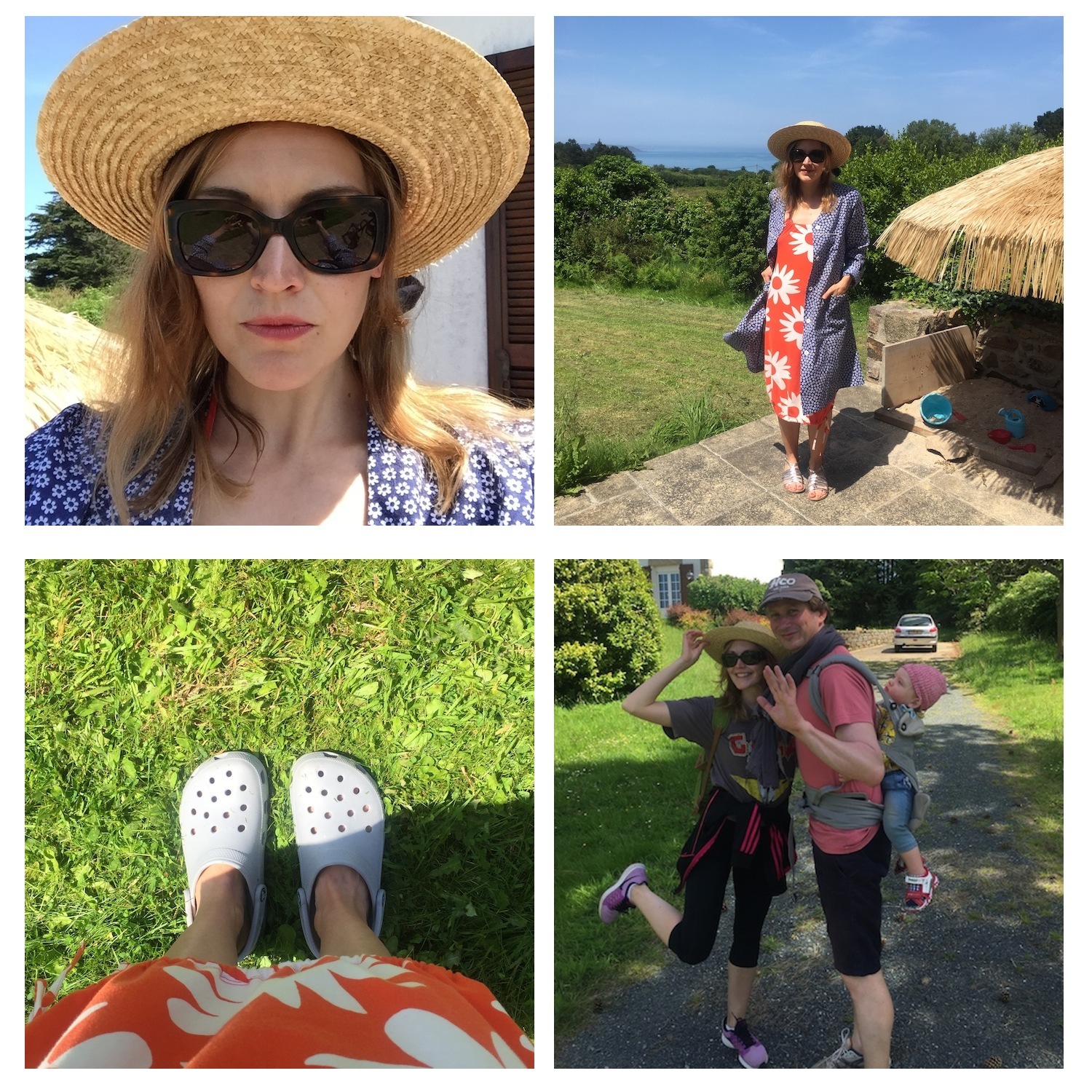 This last days in Bretagne I have been wandering around wearing old summer clothes. In Paris I put in order my wardrobe and packed all the "maybe" pile clothes with me in Bretagne to our second home. One of the reason was that I want longer the time that I use those clothes and think more in sustainable way. However, I noticed that I started to get too old to wear those tiny littly tops, and there is a thing or that I would like to buy this summer to upgrade my summer style. Anyway, I try to stay strong and invest only to a couple of garments that I really need.
In the pictures you can see how the fashion editor is on holiday on stylewise, too. In these last days I have been wearing odd outfits and even crocs! I guess while my mind is on holiday mood, my style needs to have its odd moment too. I know I will get better when I return to Paris, I know I will !
2