Viime aikoina olen haahuillut kuvassa näkyvässä maksihameessa kuin mikäkin helsinkiläisrouva. Huomaamatta (tai ehkä sällä ja iällä on jotain tekemistä asian kansa) olen ratsastanut muodin aallonharjalle ja päässyt menocore-tyylin ytimeen. Siis minkä? Anna kun selitän: menocorella viitataan keski-ikäisten naisten mukavaan ja käytännölliseen pukeutumistyyliin. Sen ytimessä on pellava- ja villavaatteet, käytännölliset kengät ja väljät tunikamekot. Muotivillitys sanoo hyvästit korkeille koroille, plajastaville ja liian tiukoille vaatteille. Lyhyesti todettuna menocoressa yhdistyy tavistyyli ja menopaussi. (Lue trendistä lisää täältä ja täältä.)
Vaatekaapissani menocorea parhaimmillaan edustaa juuri hankitut (ja elämäni ensimmäiset) talvikengät. Ok, ne eivät ole kaunottaret – tai itse kyllä ne tavallaan ovat. Tykkään tepastella niissä aamukävelyllä ja yhdistää ne naiselliseen hameeseen. Kontrastit kiinnostavat nyt.
Toinen todiste menocore-tyylistäni on käytönnöllinen pukeutuminen. Nyt talvisaikaan puen villakangastakin alle kevyttoppiksen, jonka voin äkillisen lämpöaallon sattuessa pujauttaa pieneen säilytyspussiin ja laukkuuni. Arkikassikin on vaihtunut nahkaisesta suureen ja kevyeen tikkikangaslaukkuun (suosittelen). Se sopii Suomen sääoloihin täydellisesti, ja suuren kokonsa ansiosta kassissa kulkee mukana kaikki arjen tykötarpeet aina muistikirjasta joogamattoon. Nyt totta tosiaan kiinnostaa pukeutua käytännöllisesti! Syytän tyylimuutoksesta Helsinkiä. Tämä kaupunki saa minut nauttimaan ulkoilusta, ja haluan pukeutua mukavasti ja lämpimästi.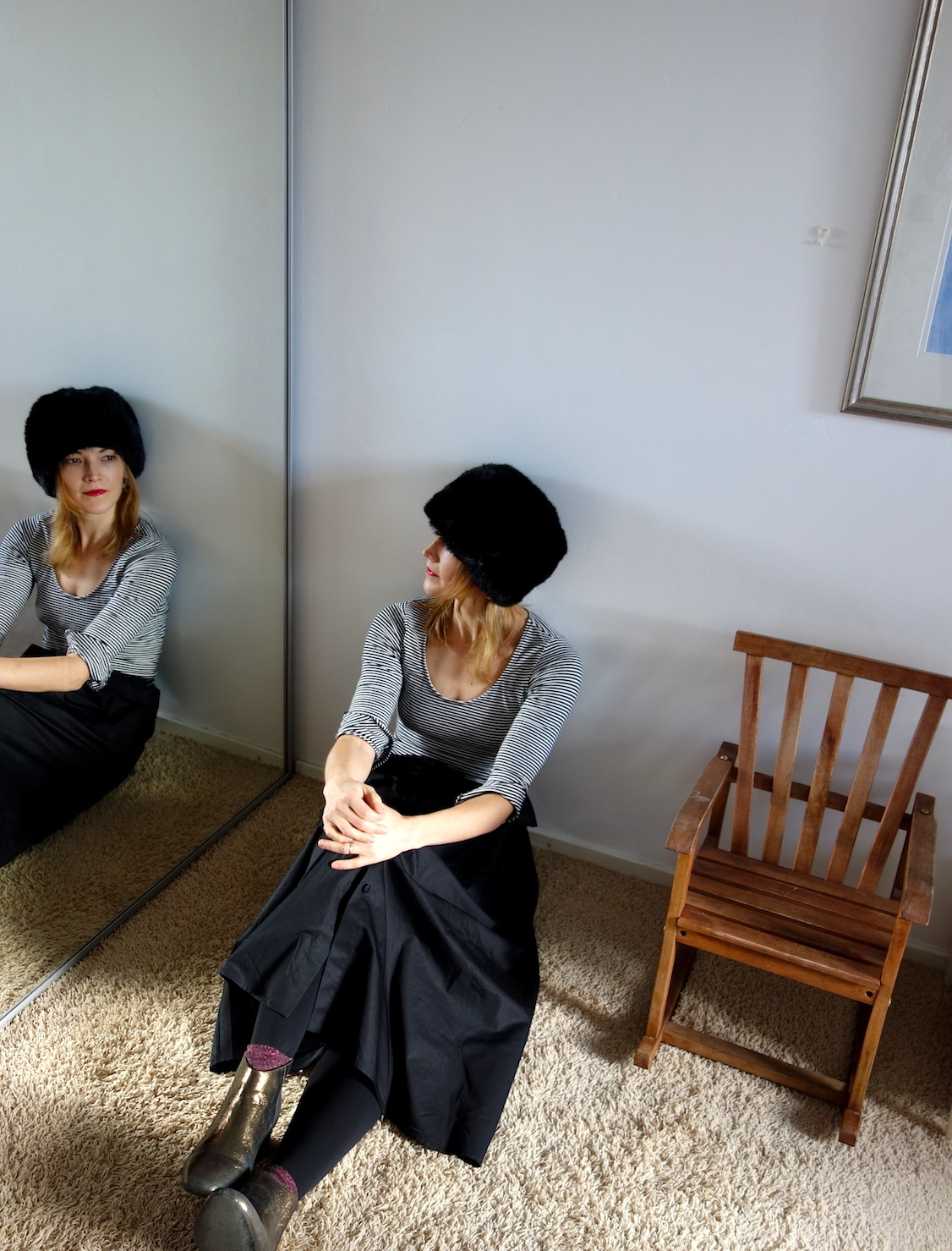 On ihan uskomatonta ajatella, että olen asunut lähes kolmekymmentä vuotta Suomessa, mutta vasta nyt olen oppinut pukeutumaan sääolojen mukaisesti. Toppatakit, karvahatut, lämpövuorelliset leggingsit ja toppahousut kiinnostavat juuri nyt. Näitä jäänkin kärkkymään kantakaupungin Facebookin kirppisryhmistä – ihan loistava ja kätevä tapa hankkia vaatteita ja käyttötarvikkeita vastuullisemmin.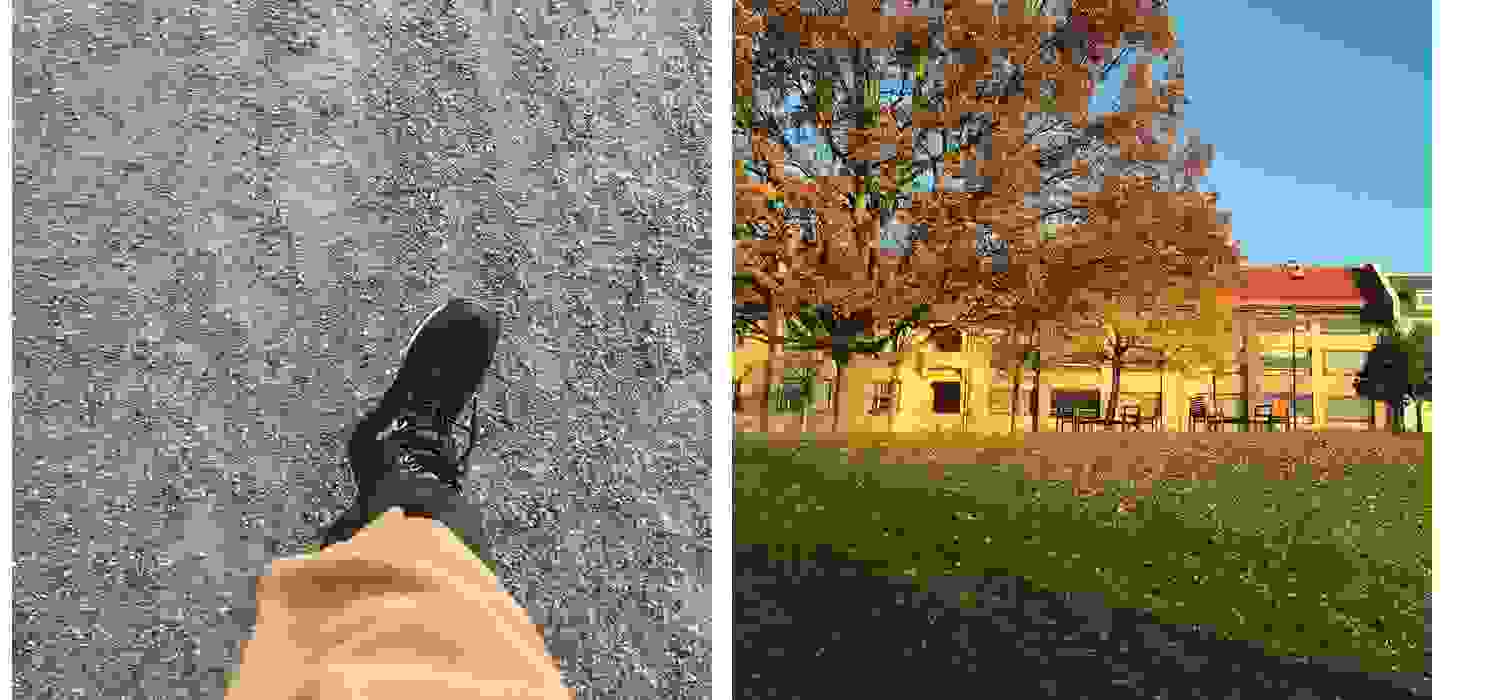 These past few days in Helsinki I have been living in this comfortable maxi skirt. I have been like this old Finnish lady who's walking around in the downtown. In a certain way I started to get to the core of menocore style, where you find your style tips from middle age women like Diane Keaton, Meryl Streep or Miuccia Prada. The word menocore is a mix of normal everyday style (normcore) and menopause. It means that you want to wear comfortable and practical clothes like linen dresses, knitwear and practical shoes.
And this really happen to me when we moved to Helsinki: I got my first pair of real winter shoes. Ok, they are ugly but at the same time a kind of stylish, I think. I like to mix these winter boots with feminine style clothes like my black skirt. I like the contrasts.
Other comfy and practical example: I started to wear a light wear quilted jacket underneath my wool coat. So I am never feeling cold actually. And when it gets too hot, I just put that light wear jacket in its little pouch and put it in my big quilted bag (that also happened to me that I have changed my leather bag to this practical quilted one).
Summary: this city makes me want to dress up wisely like those middle-aged women do.
Read more:
Punainen villapaita – ja näin se yhdistetään erilaisiin alaosiin
Tarina tahraisesta villapaidasta
1