Kesäaikana olen ajautunut kuin huomaamatta vaatepaastolle. Tämä on toisaalta hyvin loogista: kesällä (jos ei ole Suomessa) pärjää vähällä vaatetuksella ja reissun päällä tulee luuhattua päivästä toiseen samassa liehukehameessa ja t-paidassa. Lyhyt kesäaika saa myös nuukaksi: miksi hankkia lisää hellevaatteita, kun niitä käyttää noin kuuden viikon ajan vuodessa? No, olipa kesä tai ei, olen havainnut tuttavapiirissäni vallitsevan uuden trendin, nimittäin vaatepaaston. Stan Smith -tennareiden lailla se on levinnyt kaupungista ja maasta toiseen. "Olen vaatepaastolla vuoden loppuun", "päätin kokeilla ostolakkoa" – näitä fraaseja olen kuullut sieltä ja täältä. Eikä ihme, sillä onhan päivänselvää, että länsimainen kuluttaja omistaa aivan liikaa vaatteita. Ei ole sattumaa, että konmari-ilmiö on niin suosittu juuri meidän ajallamme. Toki vaatepaaston taustalla on ympäristötekijät ja vaateteollisuuteen vahvasti liittyvä epäeettisyys. Saattaapa moni potea maailmanahdistustakin! Toiset taas haluavat kasvattaa luonteenlujuuttaan samalla tavalla kuin viettämällä tipatonta tai lihatonta.
Vaatepaasto on loistava asia. Se saa miettimään omaa kuluttamista ja käyttämään luovuutta oman vaatekaapin sisällön yhteensovittamisessa. Samalla tulee myös pidennettyä vaatteiden käyttöikää, kun vanhoja vaatteita tulee käytettyä tavallista useammin. Selvää on myös, että mitä pidemmälle omaa ostolakkoa jatkaa, sitä varmemmin oma ostokäyttäytyminen muuttuu pysyvästi pitkällä aikavälillä. Uutta vaateostosta harkitaan tarkkaan, ja impulsiivinen ostaminen vähenee. Halu ja tarve erottuvat toisistaan.
Shoppailuhimoiselle vaatepaasto tarjoaa vaihtoehtoisia tapoja vaatekaapin sisällön uudistamiseen. Esimerkiksi vaatteiden tekeminen itse tai vuokraus ovat loistavia vaihtoehtoja ostamiselle. Vaatteiden tuunaaminen ja tekeminen  opettavat arvostamaan käsityötaitoja ja ymmärtämään, ettei parin kympin maksava jakku voi olla hinta-laatu-työtunti -suhteeltaan mitenkään perusteltu. Vai kuinka monessa tunnissa sinä kaavoitat ja ompelet vaatteen kasaan?
Vaatteiden lainausmalli on Suomessa vielä aloituspisteessä (aiheesta erittäin hyvä artikkeli täällä), mutta jokainen meistä voisi omassa ystäväpiirissään järjestää vaikkapa vaatevaihtoviikot. Muistan nuoruudessani, kuinka lainasimme ystäväni kanssa toisiltamme vaatteita arkeen ja lauantaidiskoa varten. Miksi emme voisi myös aikuisena toimia näin?
Pitkä vaatepaasto saattaa kuitenkin aiheuttaa päinvastaisen reaktion. Ihmismieli kun toimii välillä nurinkurisesti: sen minkä itseltään kieltää, sitä himoitsee entistä enemmän. Kun tammikuussa päättää ryhtyä vuoden kestävään ostolakkoon, on syyskuussa vaikea muistaa, miksi itseltään on kieltänyt sen pörröisen villaneuleen hankinnan, ja onko sitä rahaakaan tullut säästettyä, kun ostamisen sijaan kulutuskohteen on löytänyt toisaalta. Vaatepaastolaista saattaa myös ahdistaa, kun muut ympärillä pukeutuvat muodikkaisiin vaatteisiin. Tosin loppujen lopuksi mikään ei varmasti tuo suurempaa tyydytystä pitkällä tähtäimellä kuin todeta sekä itselleen että muille: "olen vaatepaastolla". (Rehellistä pohdintaa aiheesta löydät Kirsikka Simbergin tekstistä.)
Silti uskon, että vaatepaastossakin pätee sääntö kultaisesta keskitiestä. On hyvä aloittaa pienin askelin, vaikkapa muutaman kuukauden mittaisella ostolakolla, ja näin adaptoida uusi ajatusmalli ja muuttaa omaa ostokäyttäytymistään. Vaatepaastoaalto laajemmin voisi aiheuttaa myös suurempaa kysyntää vaatelainaukselle. Suosittelen ottamaan tavaksi muiden paastovillityskuukausien rinnalle. Miten olisi "en osta mitään" -elokuu?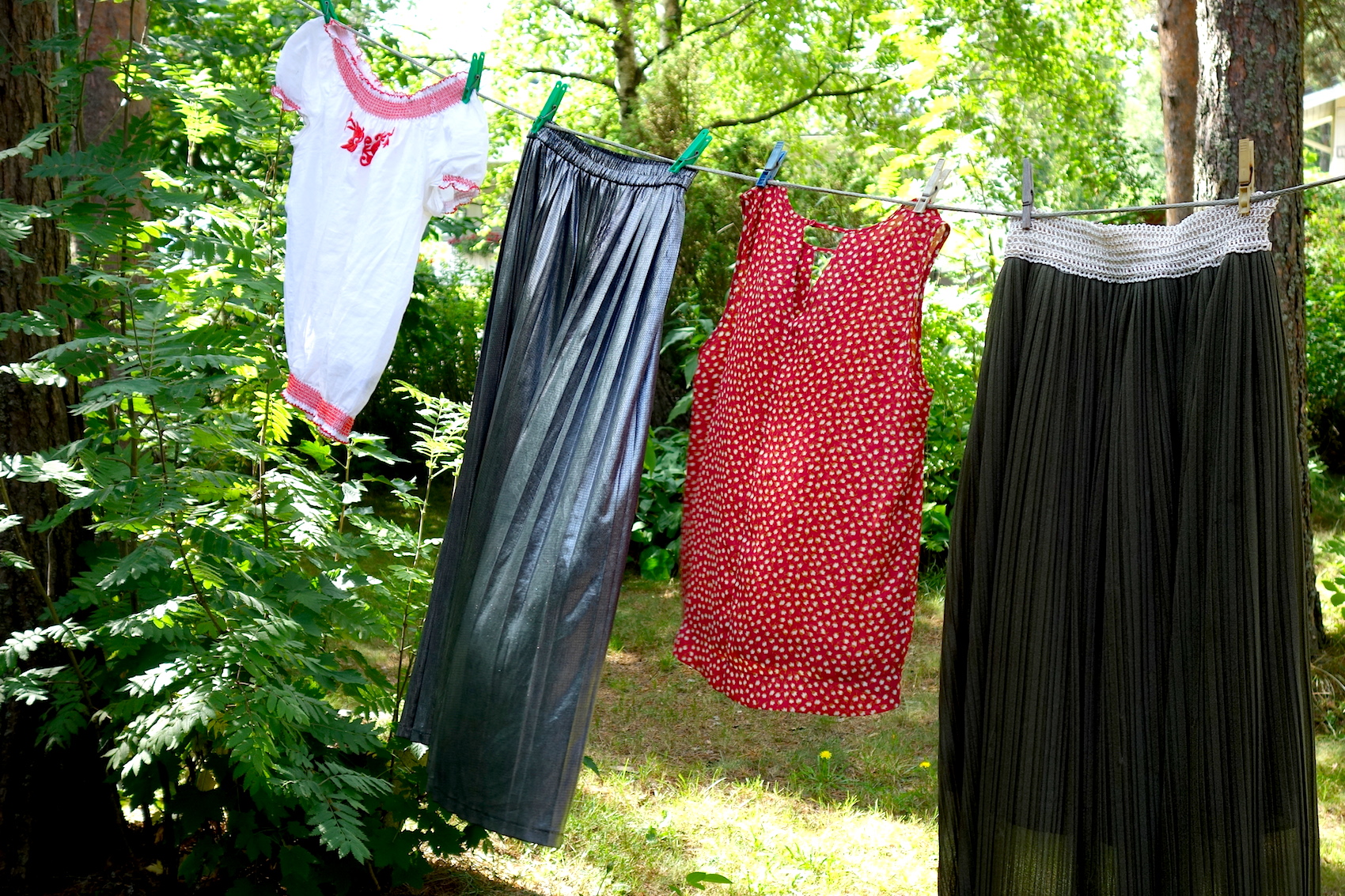 In the summertime I kind of accidentally start a shopping diet. It is easy during the summer, when you can wear light summer clothes and you don't need to put on so many layers at the same time. Then again, when I have been traveling all the summer, I kind of stick to wear the same old maxi skirt and a t-shirt. Changing the outfit is too difficult for my summer spirit.
But it is not only the summertime that motives people to get one some kind of a shopping diet, it starts to be a new trend, the new black. From here and there I have heard it: "Nope, I am not buying clothes at the moment, I am on a diet." More and more people start to raise their awareness about ethical and environmental issues and for their own shopping manners. And let's face it: all the western people own too much clothes, that is for sure! Now wonder we are living in the era of konmarism.
In my opinion shopping diet is always a good idea. You start to use more your creativity to make new outfits from the old content of your wardrobe. Also, you will learn something about yourself, too, like what clothes you wear more often and what kind of clothes make you feel confortable. Moreover, a shopping diet can make you find new ways consume clothes. One way is to make and modify clothes on your own. One solution is to borrow or switch a piece of clothing with your friend. I used to do that with my friend when I was younger and it was so much fun. In adult life we should do that more often! We should adapt the model that renting is a new form of buying. The whole idea about borrowing clothes is still taking baby steps, but I believe that in near future we are using those renting services more often.
Of course when you start a shopping diet, there is a danger that you only start thinking of buying new clothes, and you are too hard on yourself and try to make radical changes too soon and for too long. Also, you might feel at times miserable, when you see your friends wearing those new seasonal trends that you are dying for to try yourself. Sometimes it might be hard to remember why you start that shopping diet when you see that best ever fall coat, that you just need to complete your style. Still, I am sure nothing gives you more pleasure than saying to yourself and others: "I am on a shopping diet". While others continue buying new clothes, you can save that money for a travel or something special. This might be a way to invest something durable and quality wear that you never have the chance when you spent that money on cheap piece of clothing.
I am sure that end of the short or long term shopping diet, you have change your way of consuming and you are more critical of buying new clothes. Also, if more people start to try this new trend, it might create a demand for rental model.
Just give it a try, and you feel differently. Trust me.
Read more:
Mitä pakata mukaan kaupunkilomalle?
2