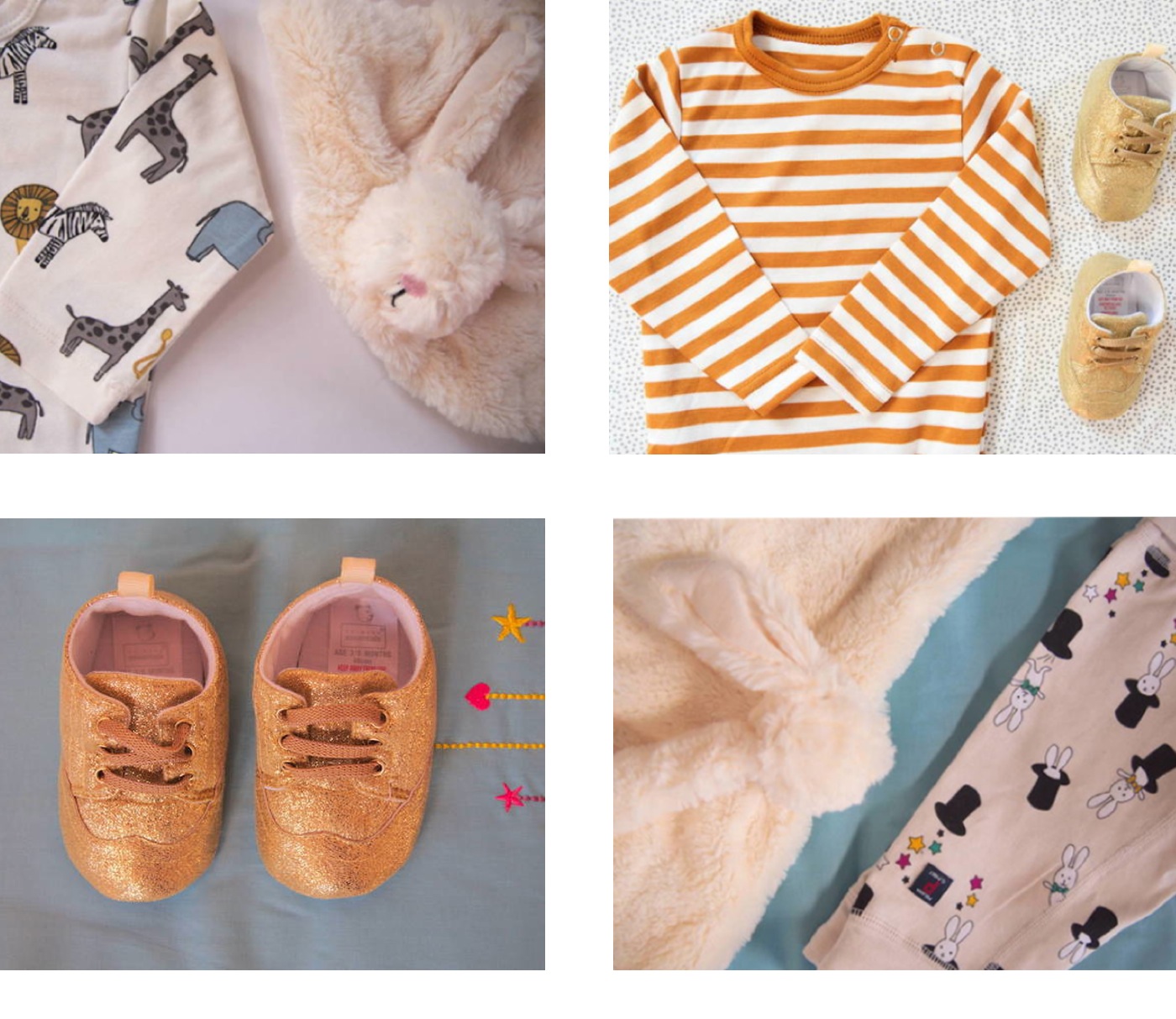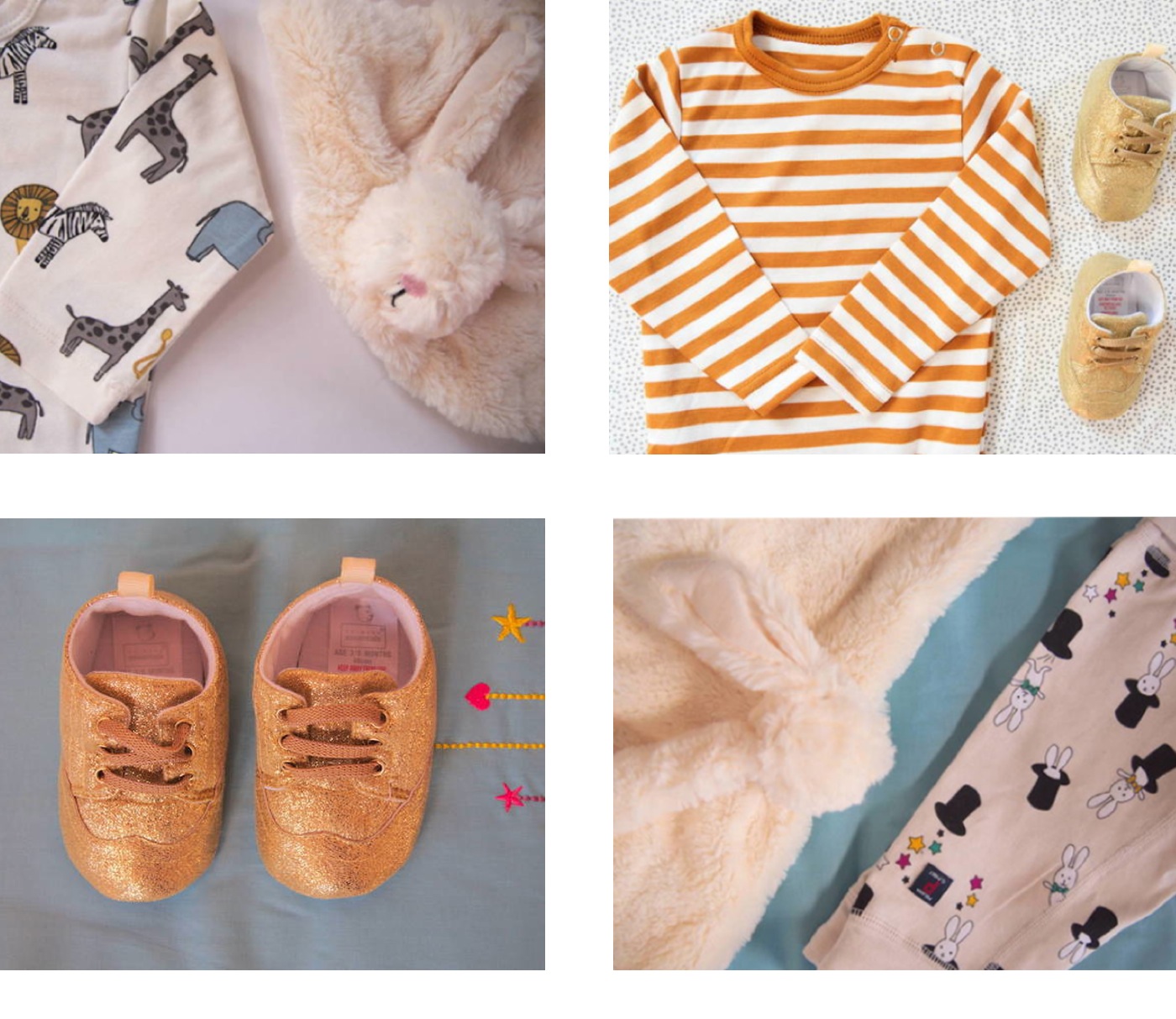 Luonnollisesti vauvanvaatteet ovat tässä elämäntilanteessa ajankohtainen puheenaihe – ja etenkin kiihtymys siitä, kuinka sukupuolittuneita vauvanvaatteet ovat. Tähän olen kiinnittänyt huomion erityisesti Ranskassa. Tammikuun alennusmyyntejä plärätessä vauvanvaatteet olivat suurimmaksi osaksi jaoteltu sukupuolen mukaan: tytölle vaaleanpunaista, poikavauvalle vaaleansinistä. Sitten on tietysti ne neutraalit kesytysvärit, kuten valkoinen ja beige, jotka väreinä lienee todella käytännöllisiä vauvalle. Näkemäni vaatteet ovat olleet myös äärettömän tylsiä ja kalliita. (Taannoin löysin erään kiinnostavan lastenvaatekaupan, jossa bodien hintataso lähti 50 € ylöspäin.) Näin ollen vaatteet ovat jääneet ostamatta. Sen sijaan olen tehnyt löytöjä Huuto.netistä ja Lindexiltä (jälkimmäiselle kiitos siitä, että verkkokauppa toimittaa vaatteita myös Ranskaan). Pidän siitä, että vauvanvaatteet ovat värikkäitä, iloisia – ei liian konservatiivisia tai sukupuolittuneita.
Eräs syy siihen, miksi aihe on ajankohtainen on myös se, että päätimme heti raskauden alkuvaiheessa, ettemme halua tietää vauvan sukupuolta. En ollut ajatellut asiaa aiemmin vaan pitänyt jotenkin itsestäänselvyytenä, että vauvan sukupuolen tietäminen tulee ikään kuin kaupanpäällisenä siellä toisessa ultrassa, ja no eikö suurin osa sen haluakin tietää?! Kun pohdimme mieheni kanssa asiaa tarkemmin, aloimme kyseenalaistaa tämän ajatuksen. Tiedustelin myös tuttavapiiristä, miksi ystäväni olivat halunneet tietää lapsen sukupuolen etukäteen. Vaustaukseksi sain sekä tunne- että järkiperäisiä syitä: oltiin uteliaita tietämään sukupuoli, ja perusteluina oli myös, että tulevia vaate- ja tavarahankintoja oli helpompi suunnitella.
Toki mekin olemme uteliaita, ja usein iltaisin arvuuttelemme kysymyksellä kumpi-se-on. Muutaman kerran olen nähnytkin unia vauvan sukupuolesta, ja ilmestyipä unessa vahva visio tulevasta nimestä, jonka annamme vauvalle, jos se on poika, silti vaatehankintoja tai vauvankammarin sisustusta emme kokeneet niin painaviksi tekijöiksi, että meidän olisi pitänyt saada tietää.
En missään nimessä halua arvostella niitä vanhempia, jotka ovat halunneet tietää sukupuolen etukäteen, vaan halusin tuoda ilmi meidän perustelujamme ja herättää keskustelua aiheesta. Tiedän, että aihe on arka, ja se jakaa vahvojakin mielipiteitä sekä puolesta että vastaan.
Eräs painava tekijä tässä tietää vai eikö tietää -kysymyksessä oli mieheni käymä keskustelu ystävänsä kanssa. Hän sai ajattelemaan sitä, kuinka automaattisesti (tietyllä tasolla) alamme määritellä vauvan identiteettiä ja persoonallisuutta, jos tiedämme sukupuolen etukäteen. Tarkoitan siis, että jos kyseessä on tyttö, liitämme häneen tiettyjä ominaisuuksia jne. Tätä kysymystä pohtiessamme päätimme siis, että emme halua tietää.
Sen sijaan ajattelemme näin: sisälläni kasvaa vauva, joka paljastaa sukupuolensa, kun on sen aika, ja että hän  saa määrittää itsensä juuri sellaisena kuin on.
Mielenkiintoisesti sukupuolikysymys nousee keskeiseksi kulttuurisessa kontekstissa. Lähikaupassa, ravintoloissa ja tuttavapiirissä onnittelujen jälkeen seuraavaksi tiedustellaan: "Onko se tyttö vai poika?" Itse en tätä kysymystä juurikaan pohdi, vaan juuri muiden kautta sukupuolen määrittäminen nousee keskeiseksi.
Niinpä kysyjille vastaankin: "Niin, en tiedä. Se on vauva." Vauva, jolla tulee olemaan värikkäitä vaatteita ja kultaiset kimalletossut. Meidän yllätysvauva.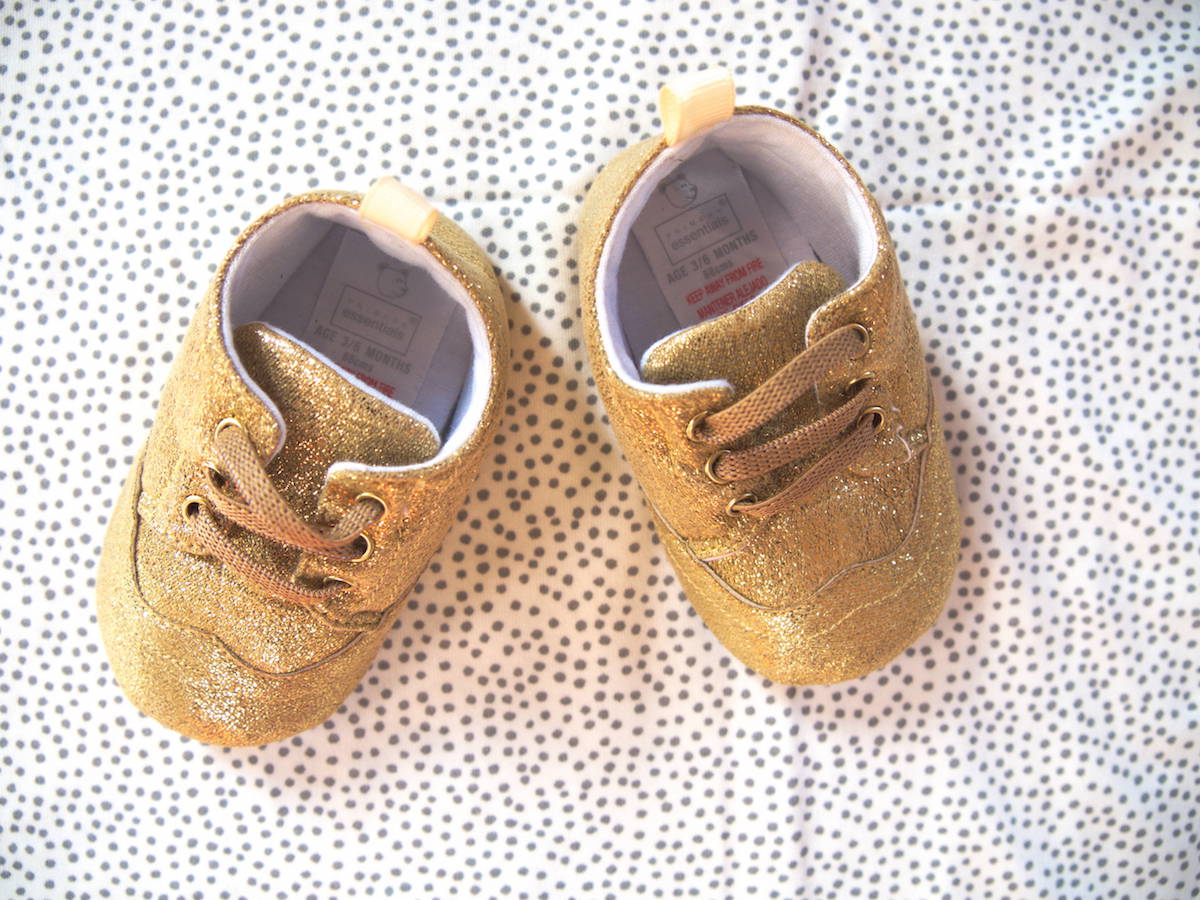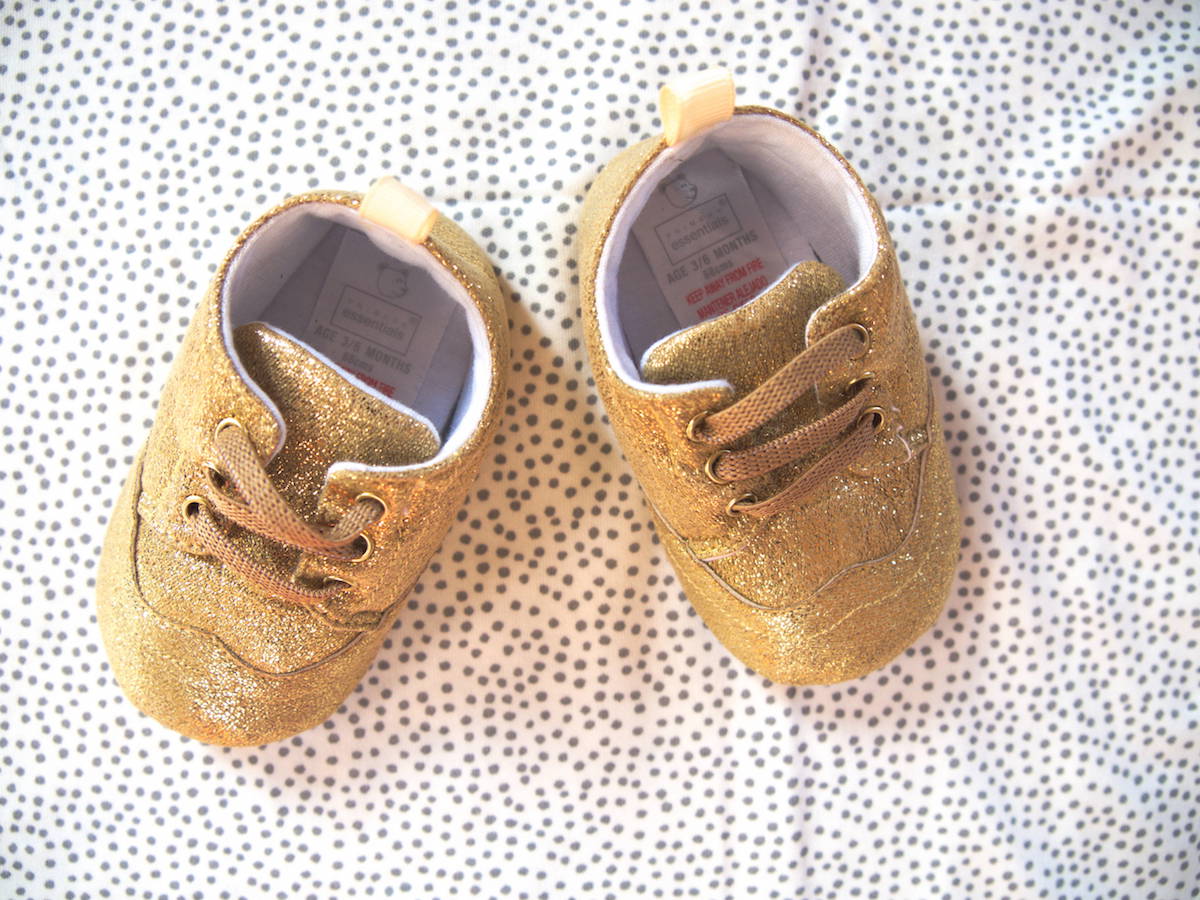 Recently, the topic of baby clothes have been on my mind – or the difficulty to find gender-neutral baby clothes. In France I have found baby clothes very gender-specific: pink for girls, blue for boys. And just for the gender-neutral clothes there rests only white or beige – really practical colors, aren't they? I have also remarked that the clothes are in a way conservative and expensive, too. So I have been ordering clothes from Finland. Especially a good collection of baby clothes I have found from Lindex (they are also organic cotton) and some online thrift stores. For us, we like the idea that the clothes are colorful and gender-neutral.
One reason why I have been paying attention to the baby clothing industry is, that we didn't want to find out the sex of the baby. In our culture it seems to be obvious choice that we want to know, so I didn't even think the question before it was current. We started to talk about it and we both agreed that we don't want to know the sex – we didn't find any good reason why we needed to. Of course we are curious to know like other parents are, and we often play the guessing game, but still, reasons like choosing the decoration for the nursery or buying right kind of clothes weren't enough. Anyway, my intention is not to judge but to raise the question to find or not to find out, and talk my own opinion about it. I know this issue draws some mixed reactions and opinions.
Maybe the most important reason for not to find out came from my husband's friend, who told that when you know the sex of the baby beforehand, you start to define your baby and give him or her a gender-specific identity – at least in some level. We basically wanted to avoid this, and give the baby a chance to born as he or she is.
It is interesting in our culture how the issue of the sex of the baby comes out in everyday situations, like in restaurants, cafés, supermarkets, or with our friends. After the felicitations the first question is normally this: "Is it a girl or a boy?" We don't usually think about it, it is the society that raises this question, for us it's a baby.
So I answer: "We don't know. It's a baby." And I smile politely. It is a baby who will be wearing colorful clothes and sometimes sparkling, golden shoes. It is our surprise baby.

2