Ok, my thoughts are drifting to our upcoming trip to Barcelona. Before leaving I wanted to share my tips for veggie buffet in town, which we tried out last time we were in Barcelona.
1. Quinoa Bar Vegetaria (203 Travessera de Gràcia)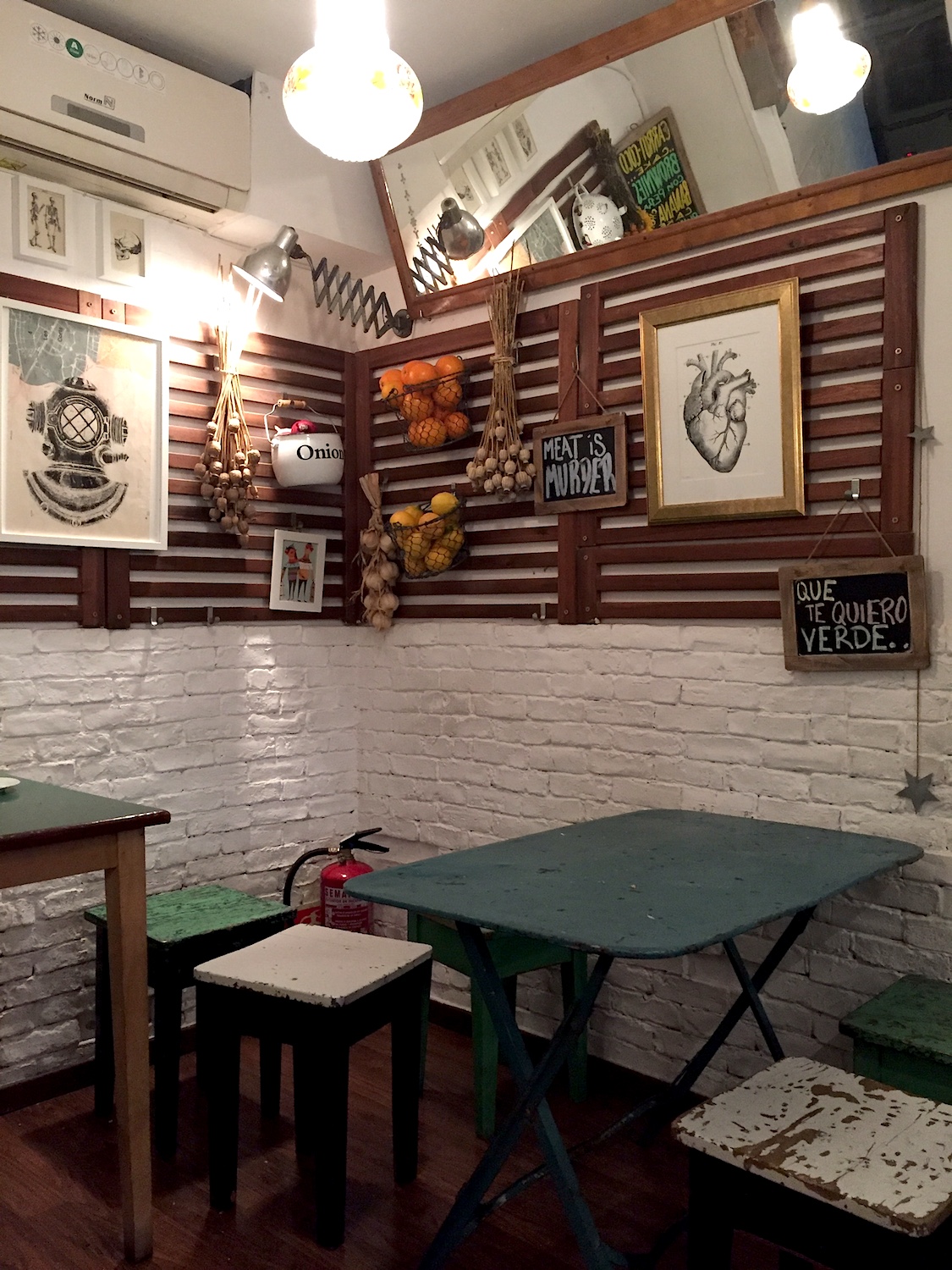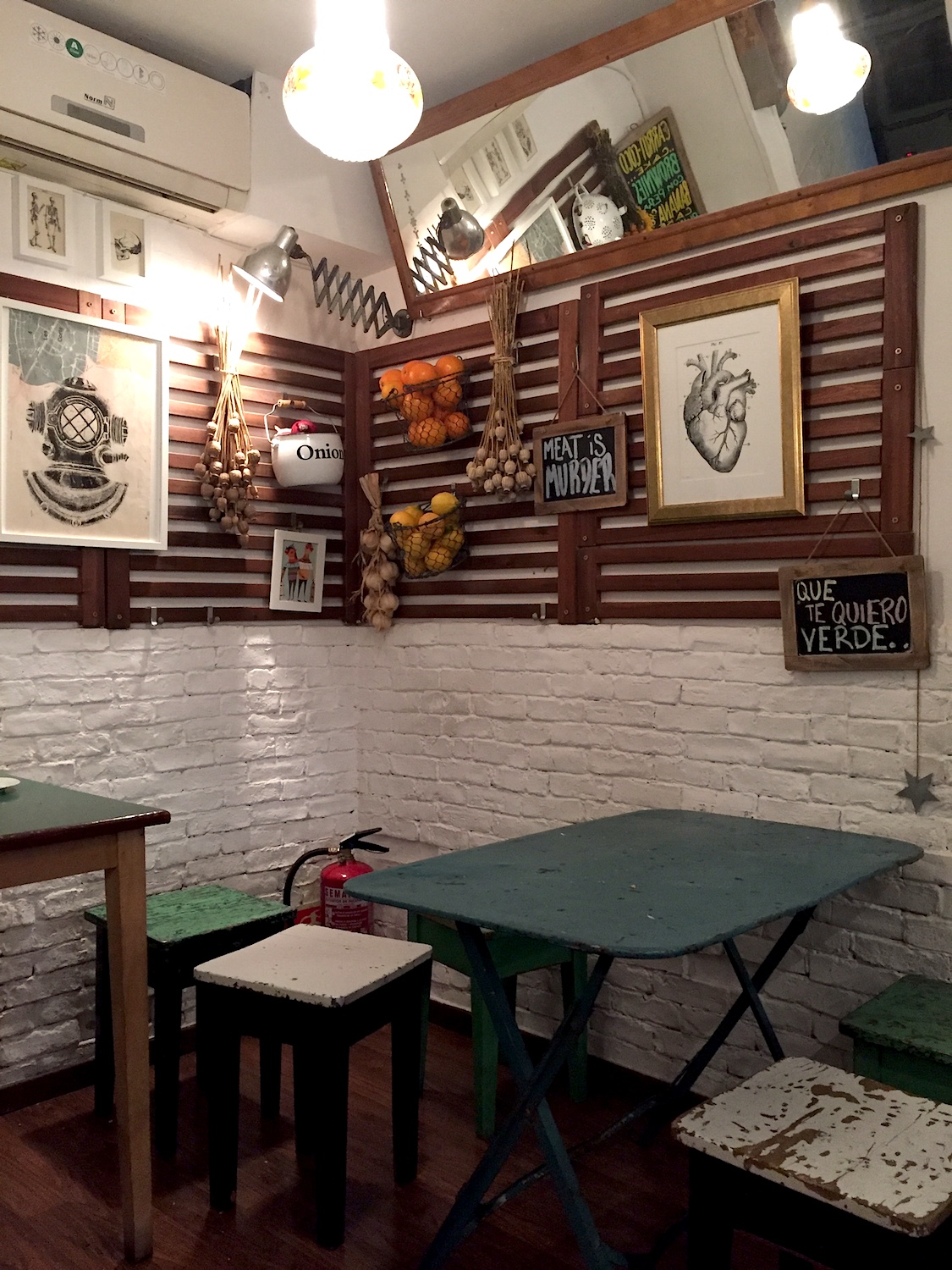 This tiny and a cozy place with its vintage style decoration offers killer veggie hot dogs and  a delicious selection of fresh juices and smoothies. This is a cool hipster place where young bobo style folks hang around the bar and drink their espressos and juices. Before you leave, you have to try an absolutely delicious carrot-coconut cake – and do not share your cake with anyone!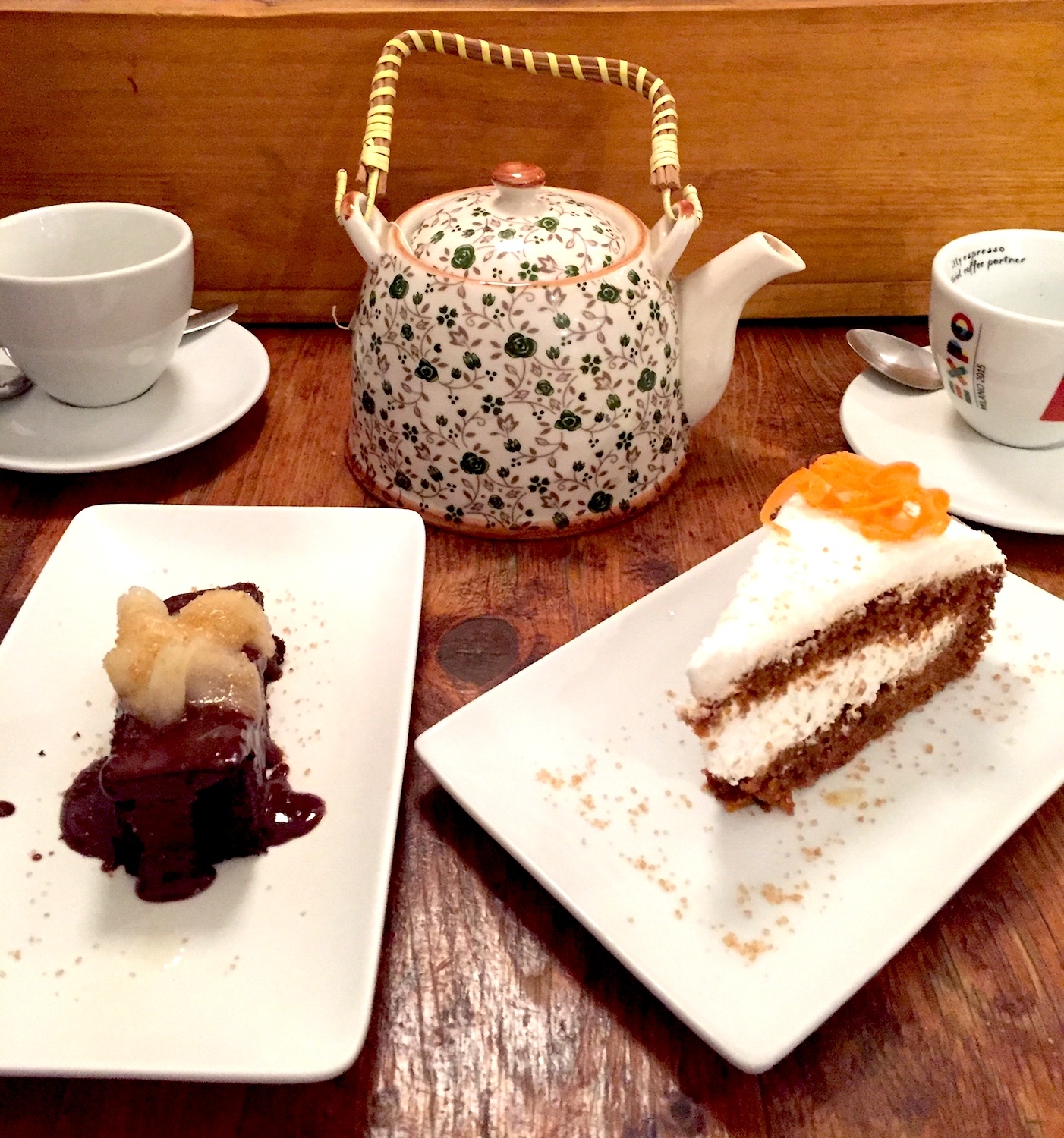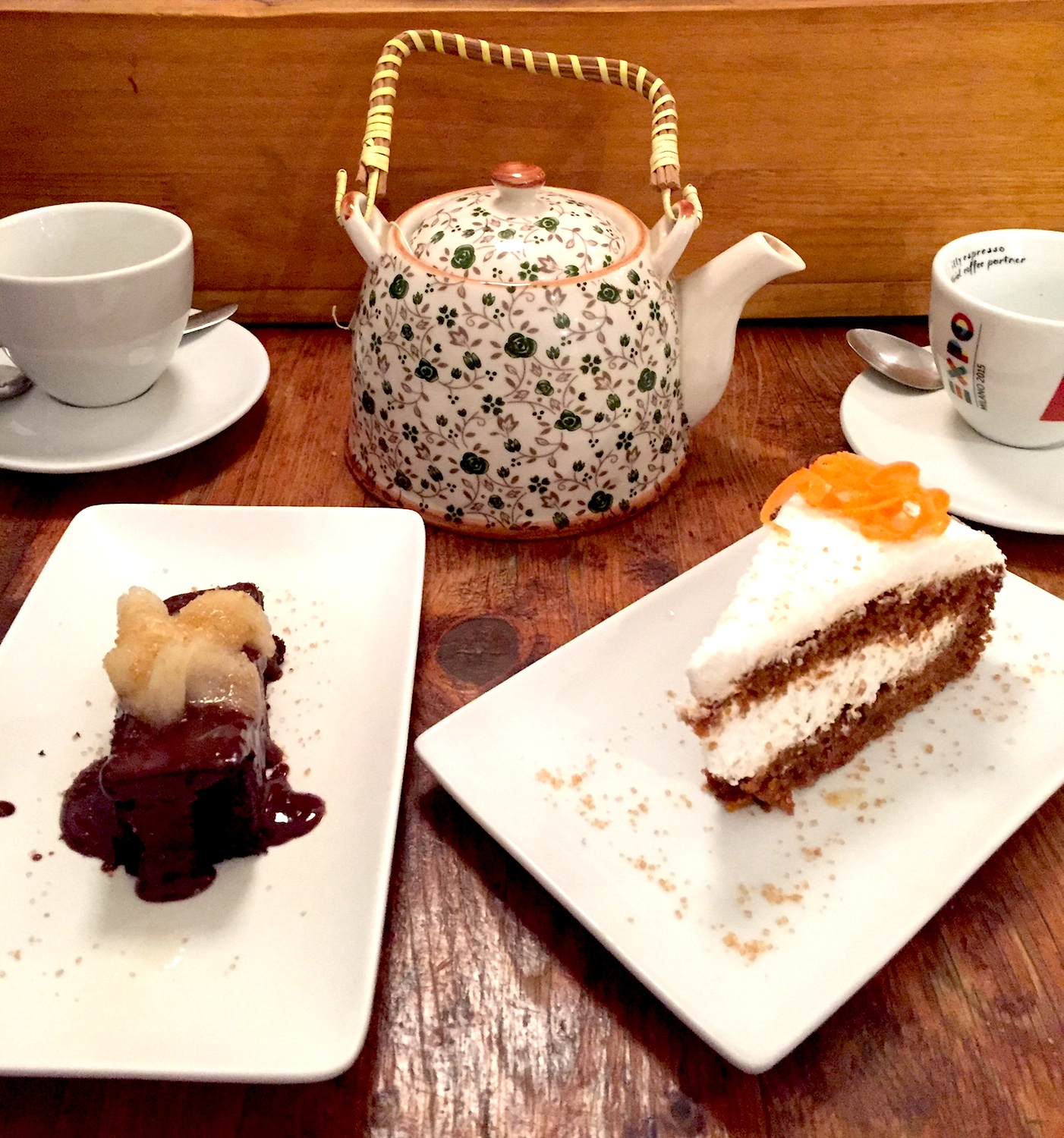 2. Flax & Kale (C/ Tallers 74B)
This Brooklyn-style, trendy restaurant is something to try out for a lunch or a dinner. Even Instagram star Chiara Ferragni shared a picture from here with two milkshakes in her hands. So I don't have to assure you that this is the it veggie restaurant in Barcelona.
Flax & Kale is really big with a modern decor, brick walls and elegant wooden tables. On the left side of the restaurant you can see into the kitchen where everything is prepared and above that you can see the storage room where all the vegetables were. So this gives complete assurance that everything served is fresh and well prepared.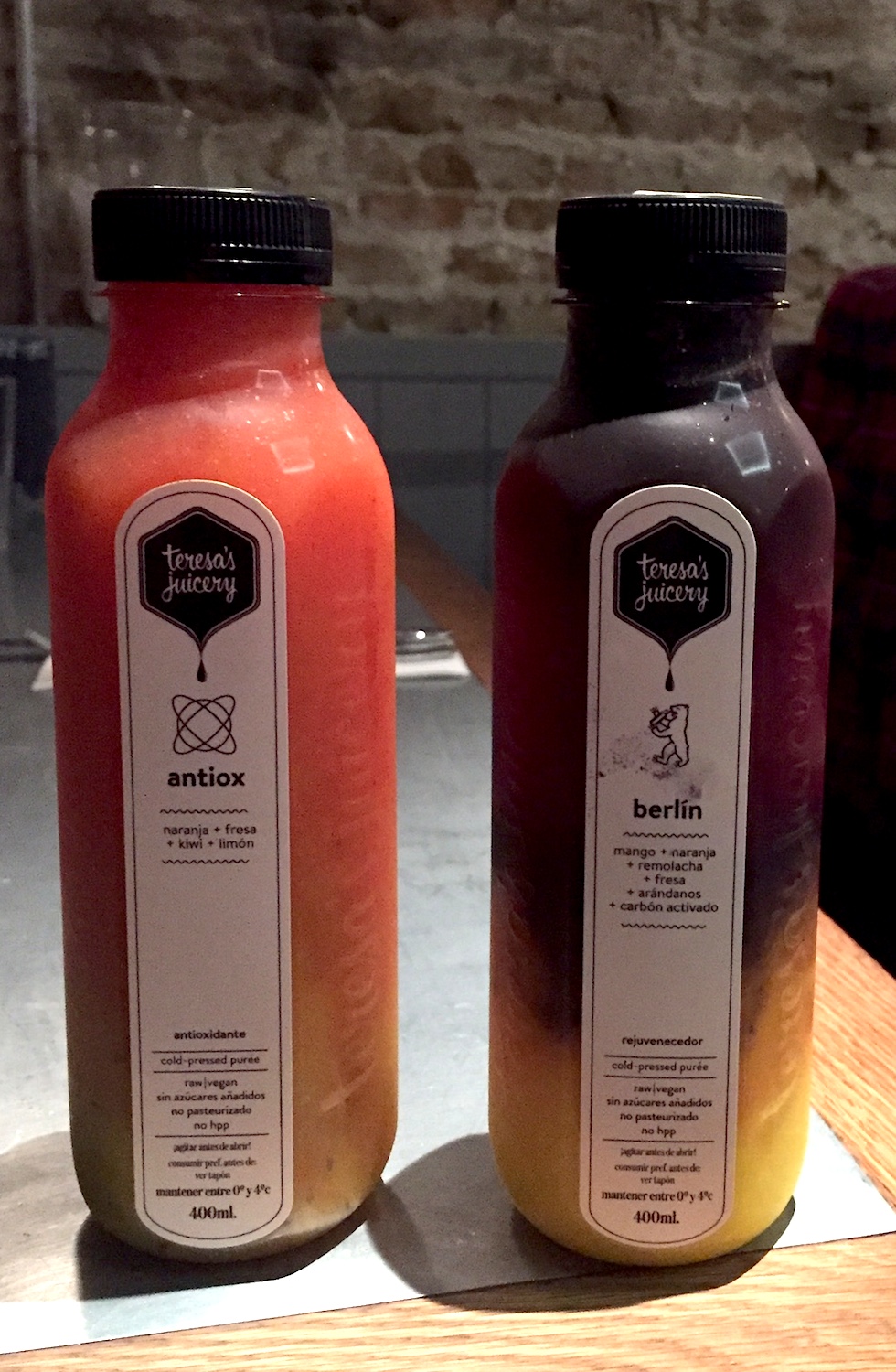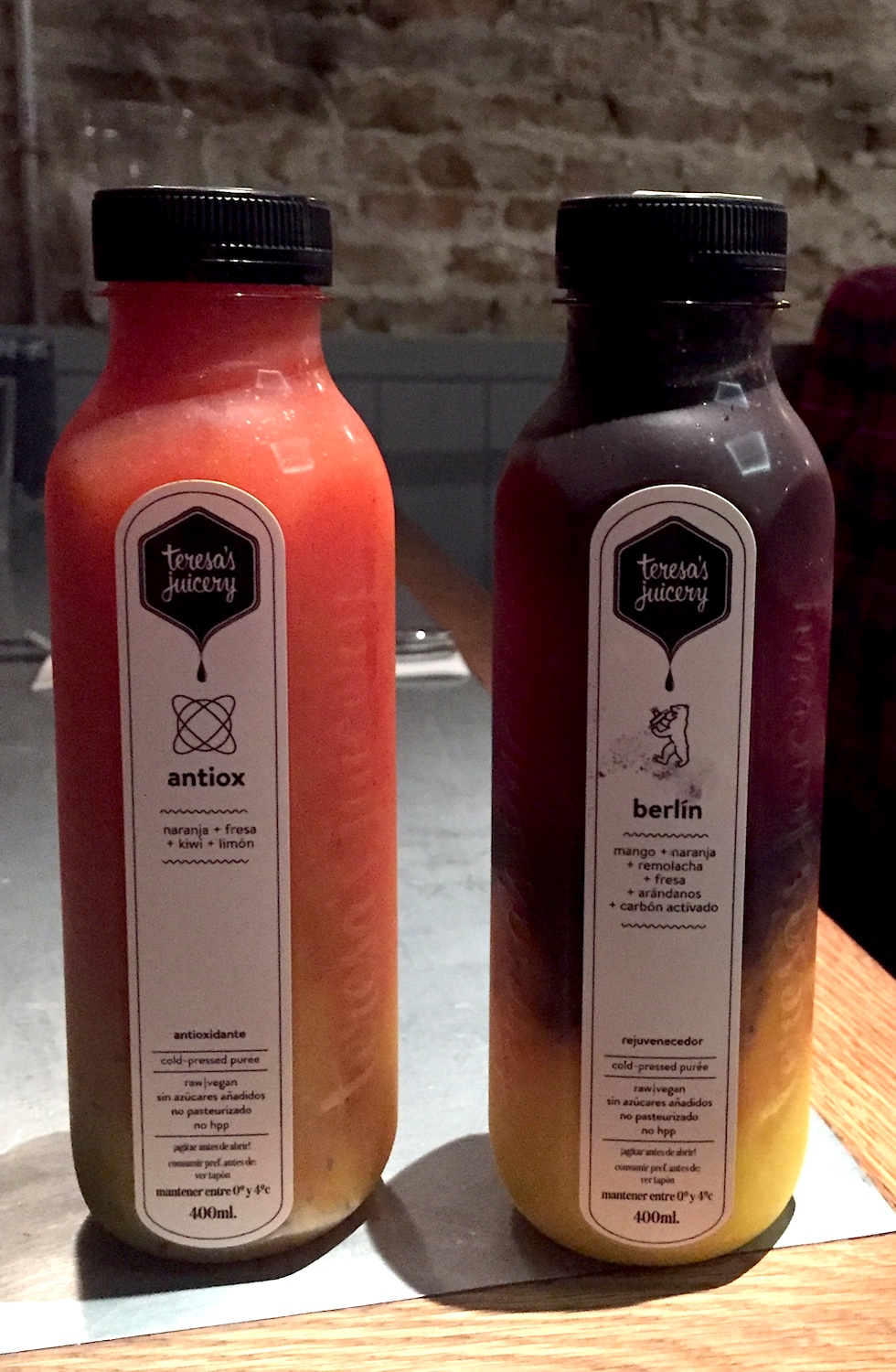 And just as the place is top notch, so are the food and juices, too! In Flax & Kale for a start me and my husband ordered organic juices, which the place was selling in plastic bottles near the entrance. The juices looked so delicious in the fridge display with their rainbow colors that you probably ended up ordering one as we did. I tried an Antiox-juice, which contained kiwi, lemon, orange and strawberries. It was absolutely delicious. They served the juice in a little icy glass that kept the juice fresh till you had finished it. If I lived in Barcelona, I could imagine myself picking up one of these tasty juices from here everyday!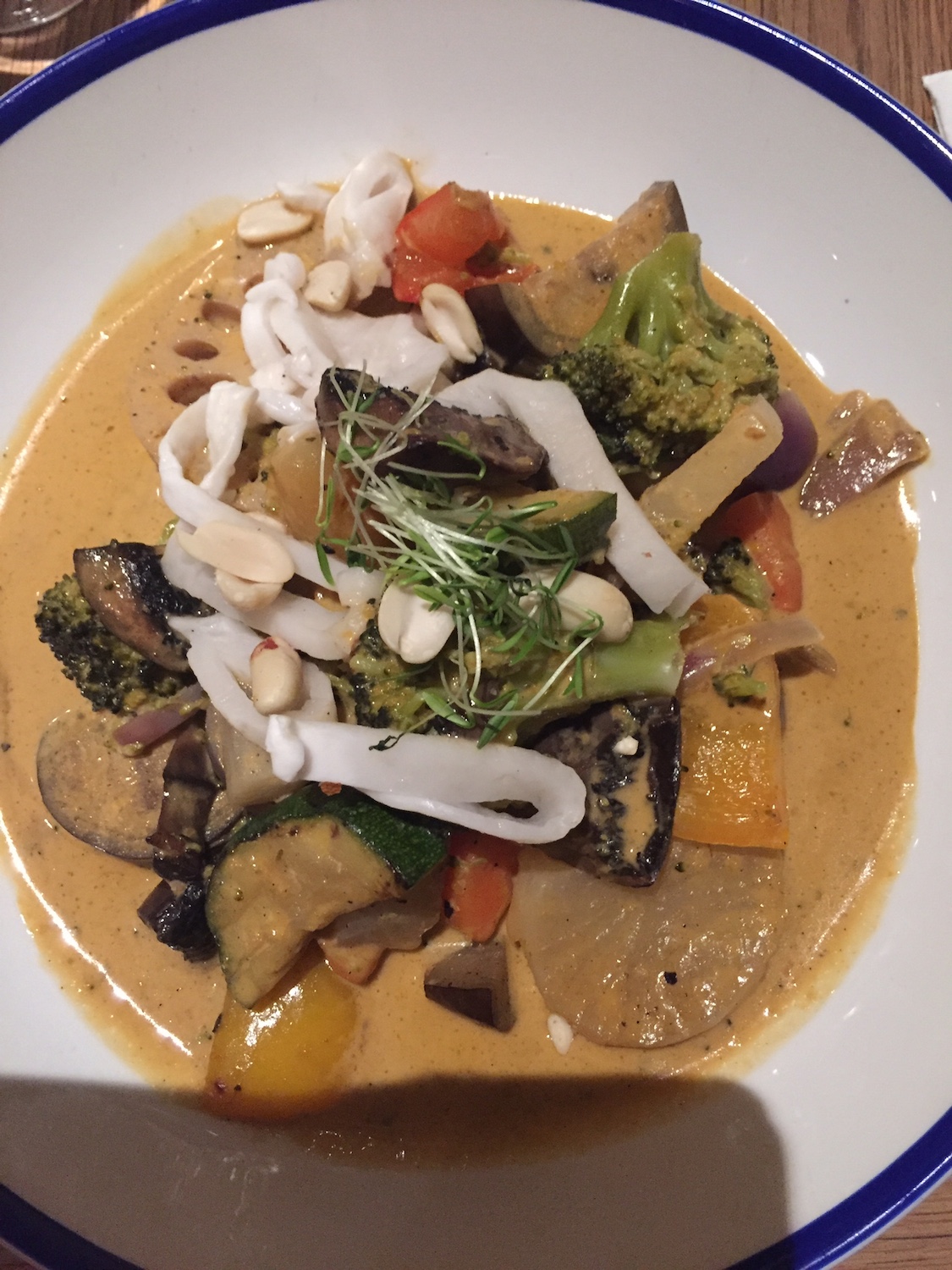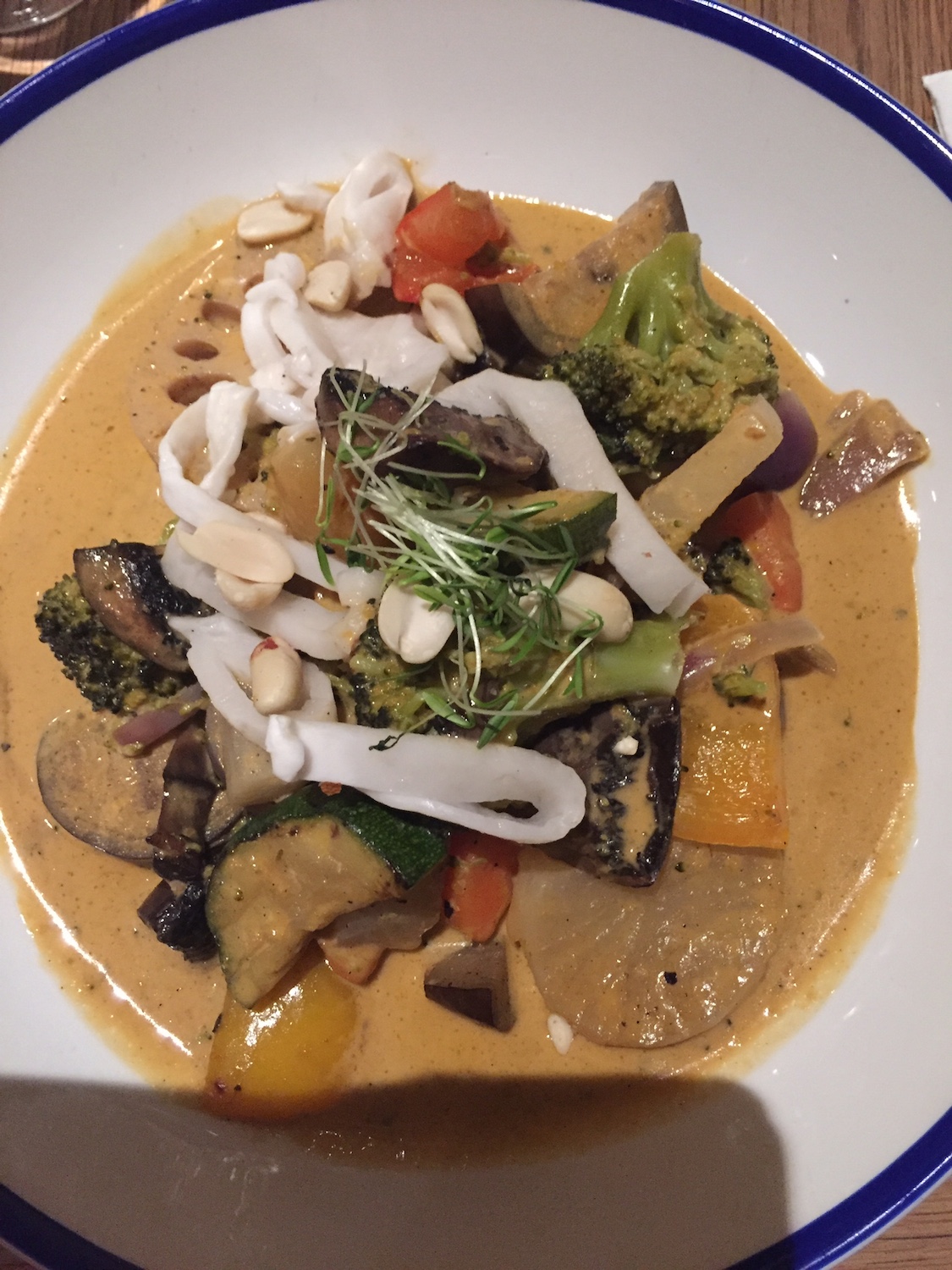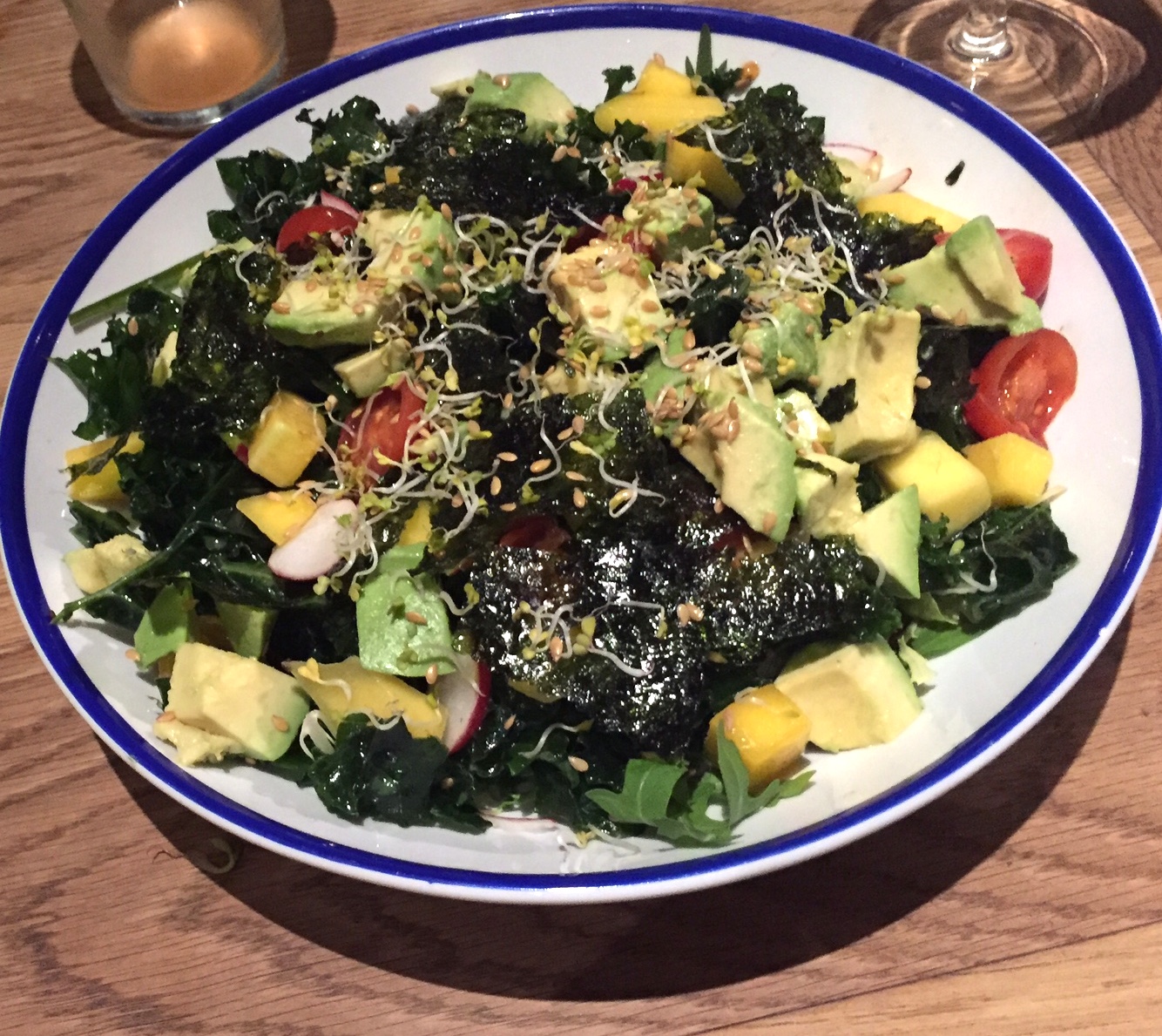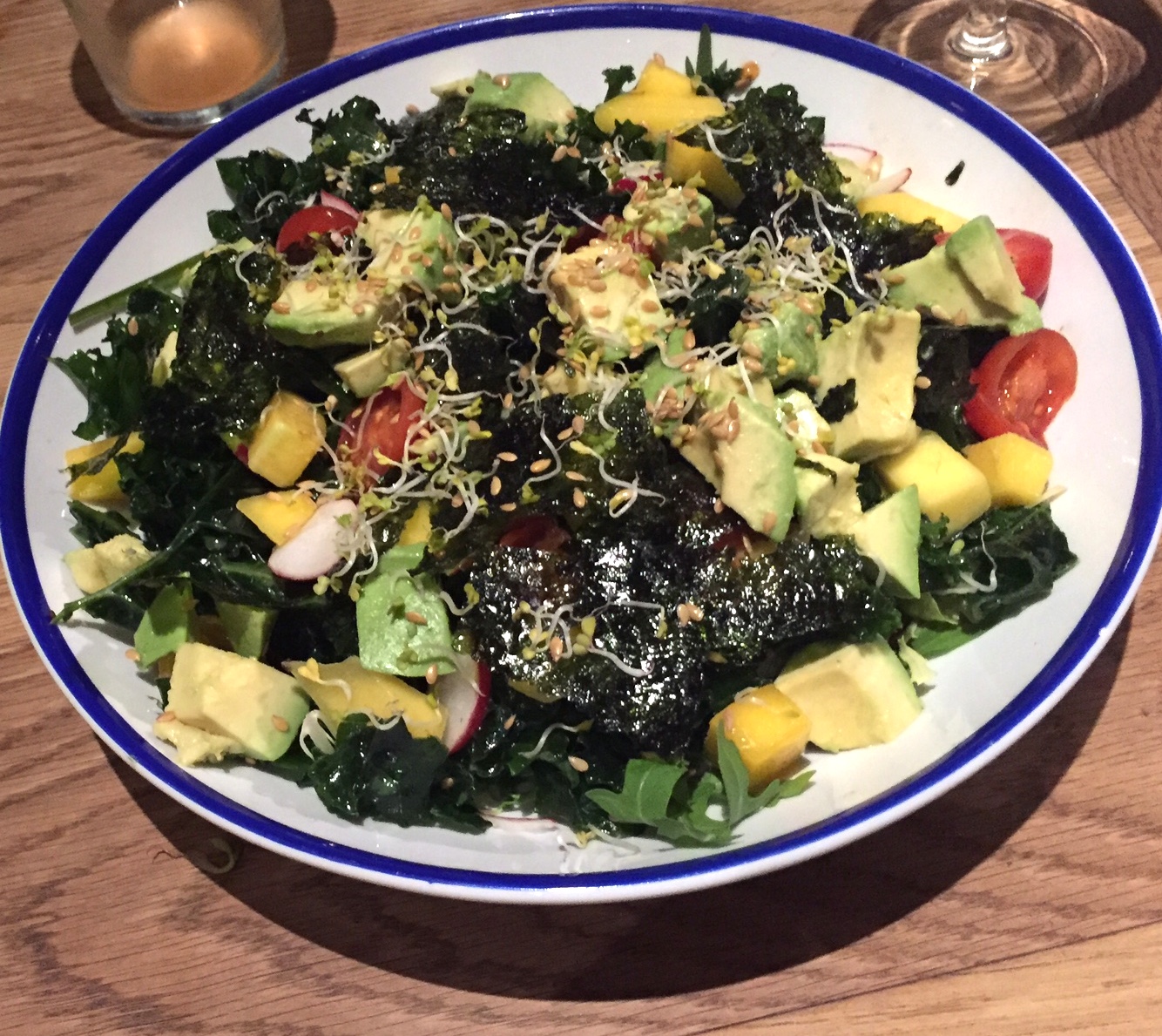 For the main course my husband ordered the restaurant's special salad "Teresa's Favourite Kale Salad", and I tried the spicy vegetarian curry. What I need to warn you is that the portions were really big, so you might not need to order a starter first. None of us finished our plate even though the food was excellent. Also, I have to mention that the service was good – and fast, too! They have organized everything very well and  I can easily give ten points to the place. Highly recommended. During weekends and lunch hour remember reserve a table in advance.
3. Teresa Carles (C/ Jovellanos 2, entre Pelai i Tallers)
The restaurant's non-stop open kitchen from 12 pm to 12 am offers delicious vegetarian recipes. The name of the place comes from cook (Teresa) who started her vegetarian business in three decades ago. Again, trendy, spacios and a cozy restaurant. Very popular during a lunch hour, so reserve your table in advance.
In Teresa Carles my husband and me ordered two main courses to share: a salad with goat cheese and a tofu & avocado tartar. Especially the second dish was delicious – and I would say innovative! For dessert I tasted a delicious chai tea latte accompanied by The everybody's fav choco cake, which in my opinion well deserved its name! My husband tasted the Catalonian cheesecake which I put my spoon into, too. Of course! So this one I can recommend, as well.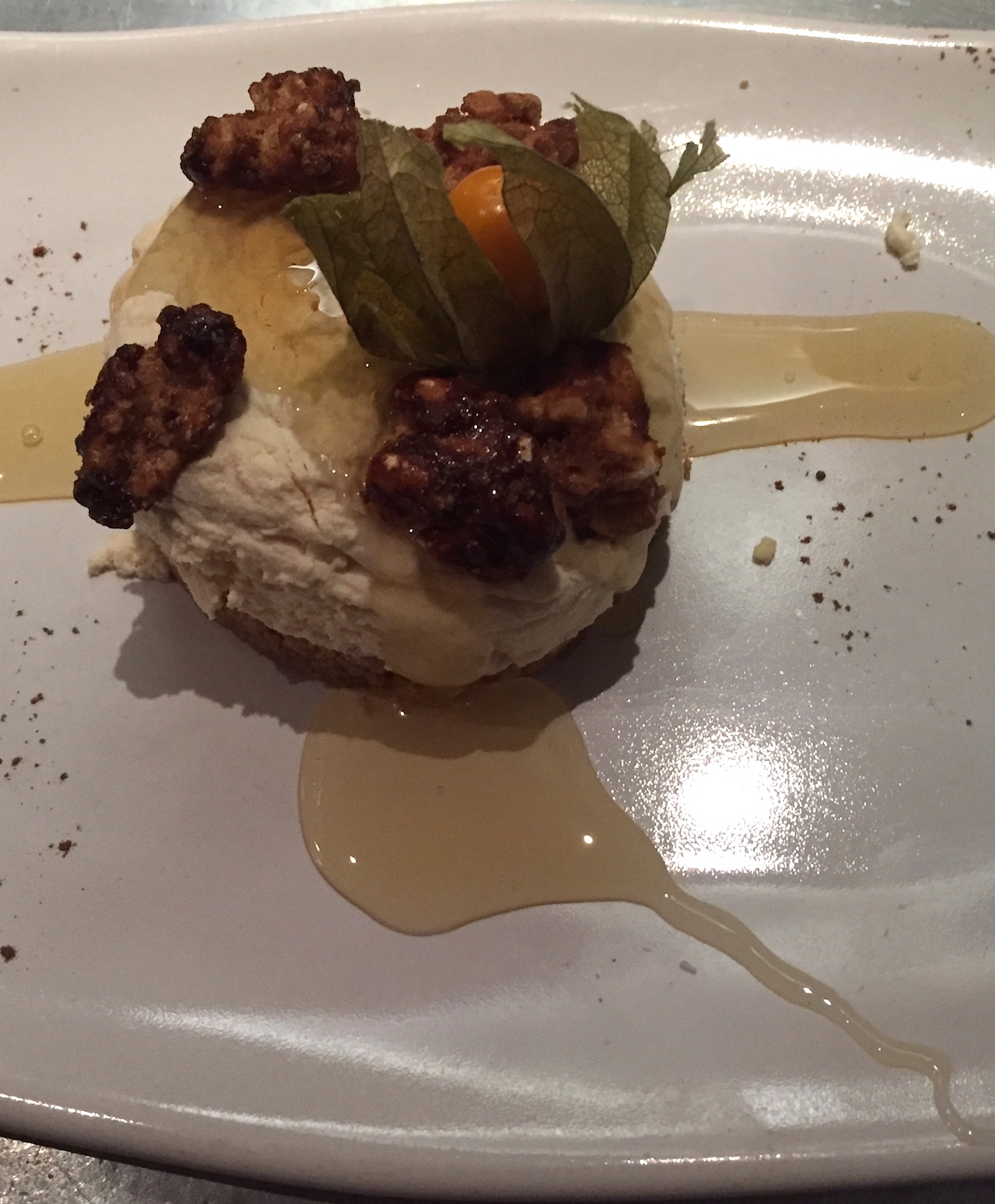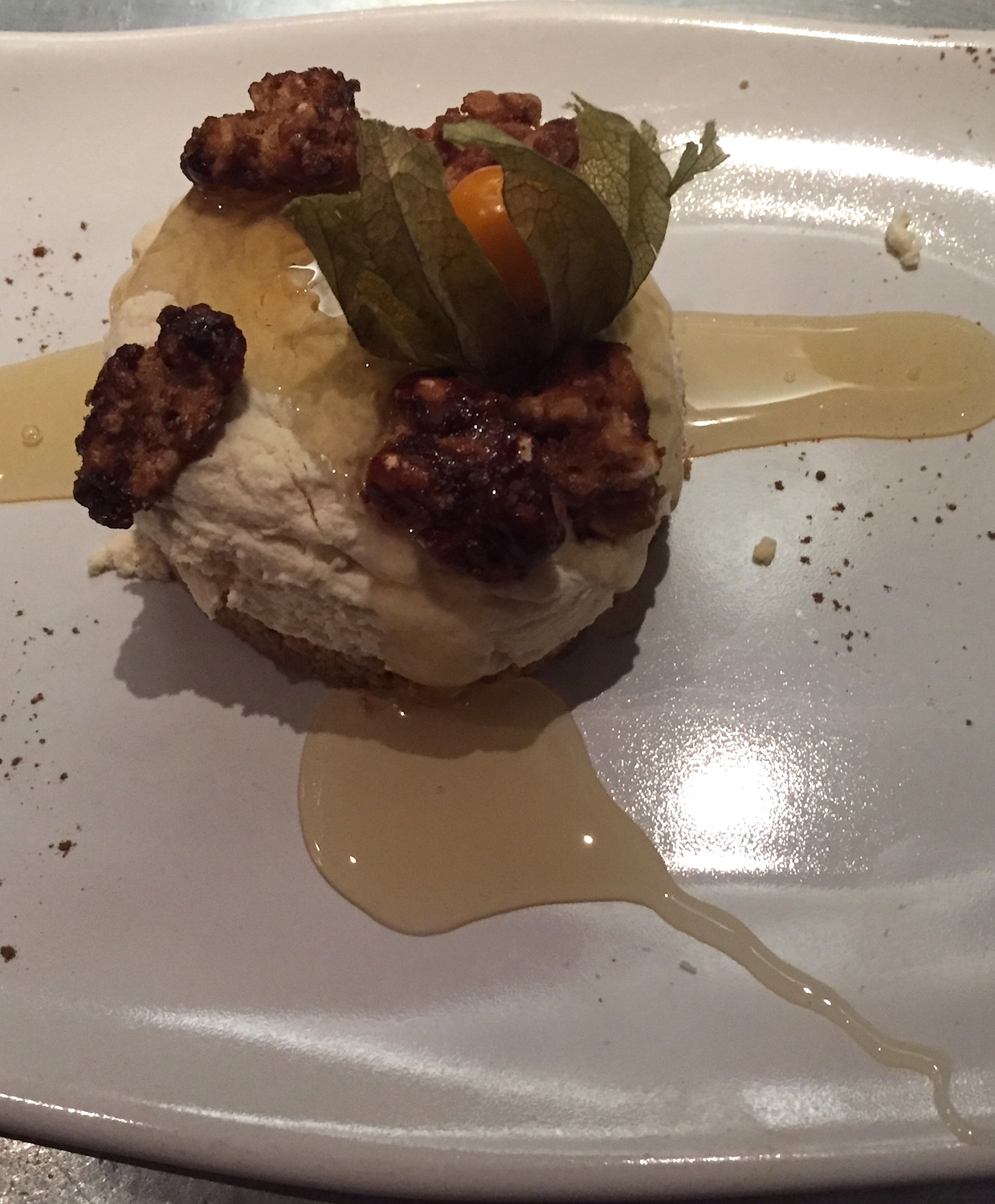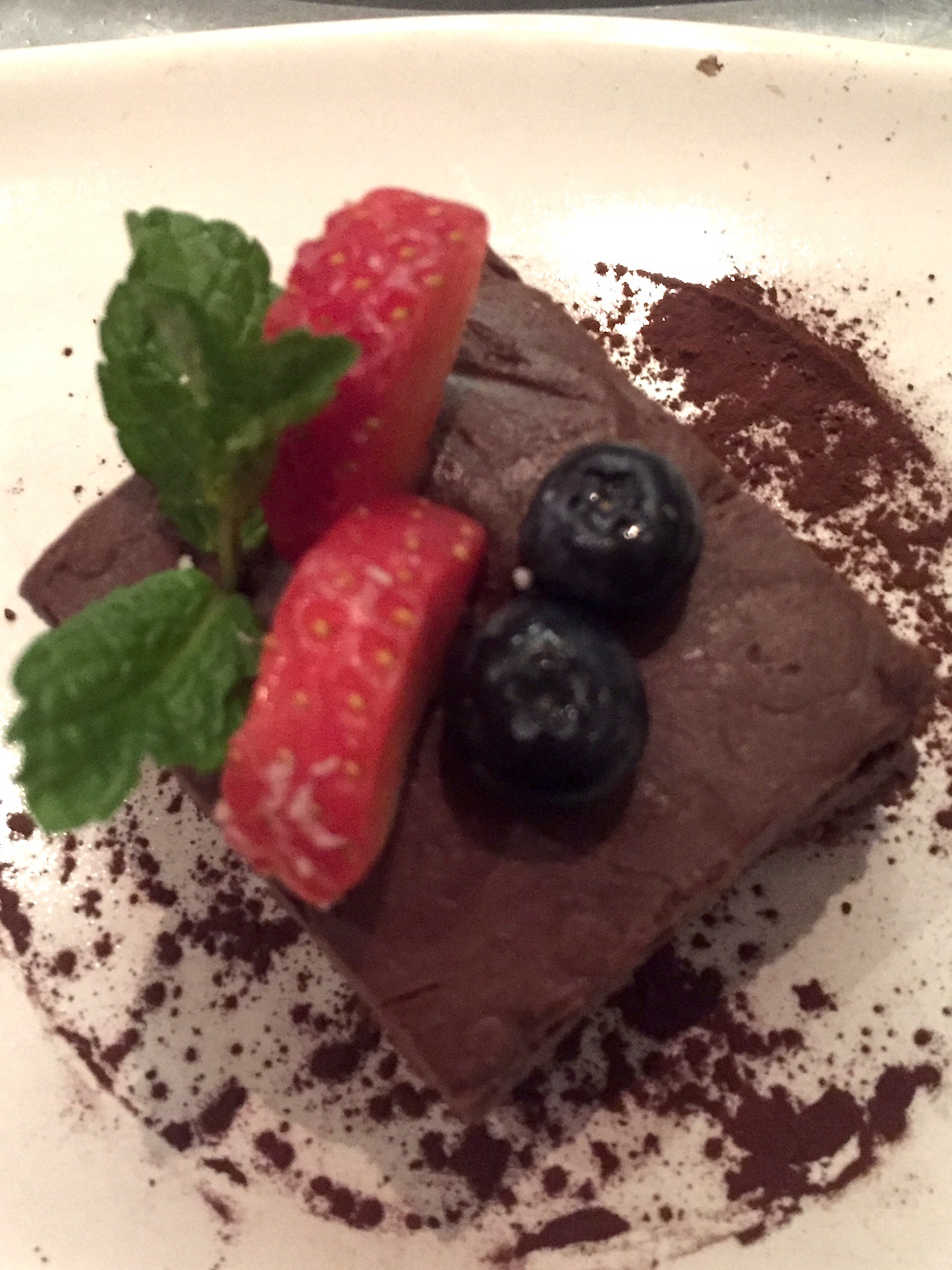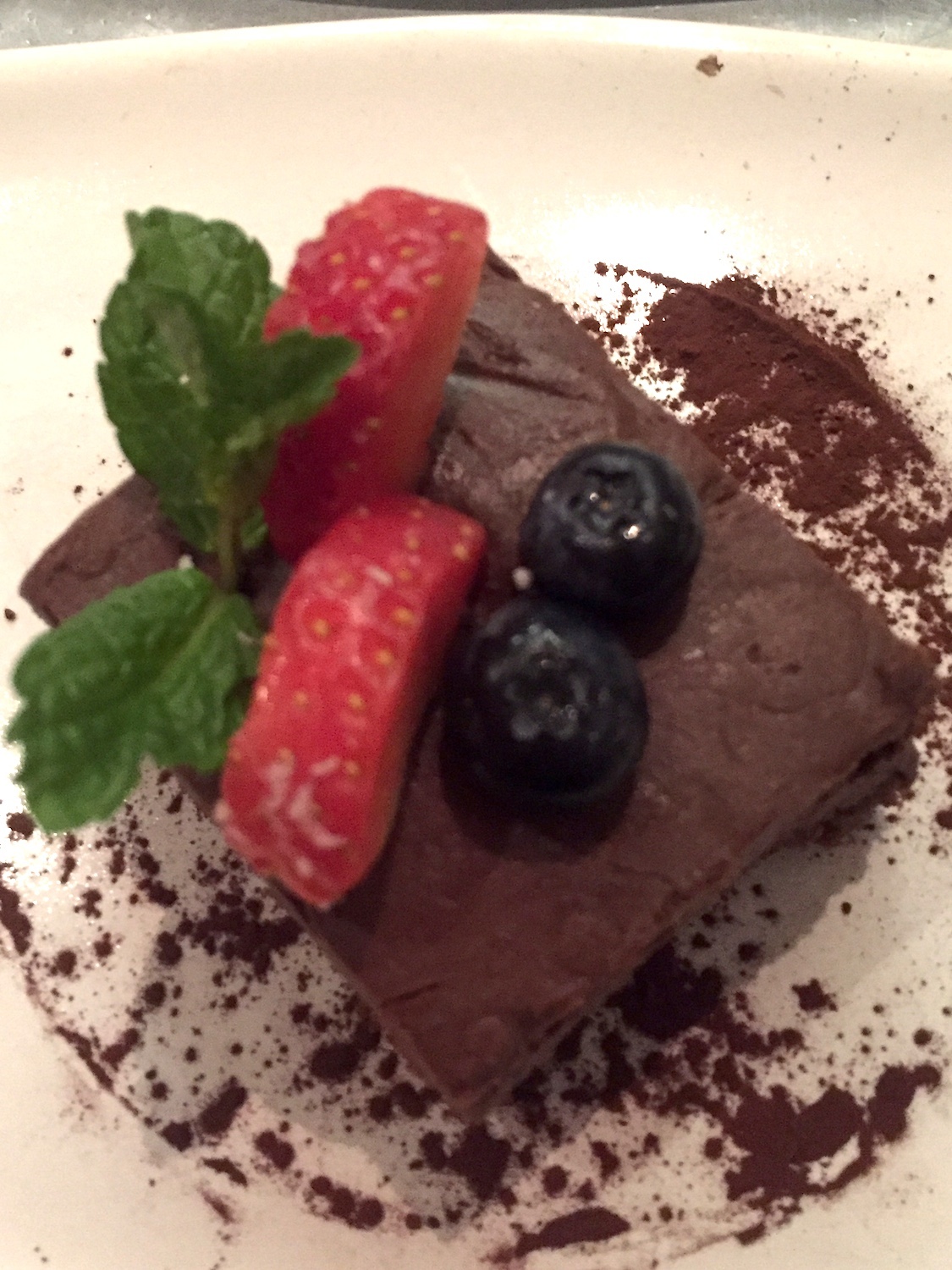 Teresa Carles I can also recommend for the families who are traveling with a baby; in the toilets you find a care table.
Anyway, when you see all the people waiting in a line, you don't want to keep the table for too long in a busy hour.
4. Aguaribay (181 Carrer de Ramon Turró )
Last February in Barcelona we were looking for a vegetarian restaurant for dinner for our last night in town. We were a bit lost; it was dark and rainy and the wifi didn't work on our cell phones. And of course we didn't have an umbrella with us. Luckily we found this veggie restaurant with its warm light inside.
Aguaribay offers vegetarian food with gastronomic influences from different countries. For example, we ordered a red curry for main dish à la thaïlandais – delicious and spicy!
The restaurant also offers a vegan and a gluten-free options, and they have wide assortement of artisan beers and wines. I definitely want to try this place again in a lunch hour!
More updates from Barcelona coming soon!

1